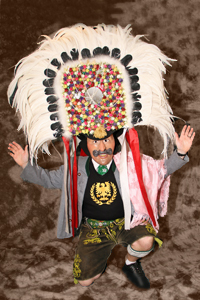 The sophisticated, but very rare version of the Melcher is the Spiegeltuxer.
The Spiegeltuxer's garment consists of 'lederhosen' and a tracht shirt. Over the tracht shirt a velvet vest is worn which features the golden Tirolean eagle. Over the vest a 'Tuxerjanker' is worn with a shoulder wrap over the right shoulder.
The most striking feature of the Spiegeltuxer attire is the head dress. Instead of a hat he wears a huge structure, adorned with rooster feathers on the outside. Attached to the front is a mirror which is said to blind the forces of evil. This mirror is framed by strings of glass pearls, colorful silk flowers and small colored beads. The backside of the head dress features colorful ribbons and metal coat of arms.